Bullet Journaling PLR Bundle
When I was doing some research about bullet journal I knew these types of journals was BIG before I got started, but I didn't realize how big this trend is.
People are are using bullet journals for anything they can think of.  Check out what they're tracking:
habit tracking
bucket list
grocery shopping
movies / TV series they've watched on Netflix
children's milestones
daily routines
healthy choices.
The options really are limitless of what you can create and the angles that you can use when you're using the done-for-you bullet journal content.
One way to use this ready made journal content is to create opt-ins.  A few months ago I  heard that 6 opt-ins was the magic number.
With the Bullet Journaling PLR you'll get one report in the front end and that will make a great start, but if you purchase the upgrade you'll get 5 more!
These two packs combined will help you get to the goal of creating 6 opt-ins in your business.
The report titles are below:
Bullet Journal
Gratitude Journal
Health Journal
Stream of Consciousness Journal
Travel
>>Grab the Bullet Journaling PLR Bundle Upgrade <<

All of these journals are 4 to 5 pages with professional eCovers and include the following topics: Benefits of, What to Write About, Tips, Prompts To Get You Started
Here is everything you'll get in the OTO:
eCover Graphics – in PNG and PSD files
eBook Converted Into Reports – 5 Reports with eCovers in PNG & PSD formats
Report – 'Journaling Tips for People Who Hate to Write' – 10 pages, 4,592 words
Report Graphics – in PNG and PSD files
Report – 'Bullet Journaling Hacks' – 10 pages, 3,424 words
Report eCover Graphics – PNG & PSD Files
Articles – 20 Articles – 500+ Words, Text & Word Format
Bonus – Social Media Graphics & Posts
Bonus – 365 Journaling Prompts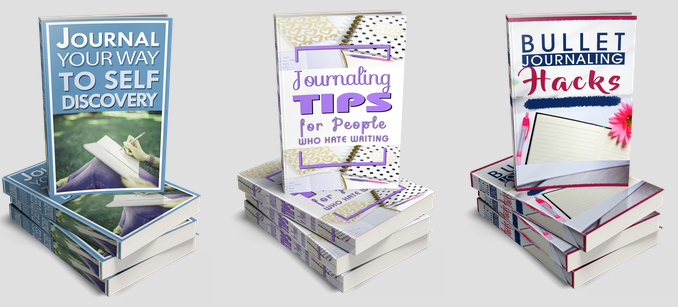 This is such a great Bullet Journaling Bundle (both the front end and the upgrade). So much potential and fun things that you can do and create with it!
Here are two fun ways:
You could take the 10-day email sequence from the front end and make videos for each day. Provide these as additional training or on a Facebook group that your audience.
Another way to use Facebook Live Streaming for this particular course, but not actually get on video is to point the camera down to your personal bullet journal and walk your customers through the steps of how a bullet journal works, what to use it for and how to set it up. Or have bullet journal work sessions. I saw someone do this last year for coloring. This will help your audience get ideas and ask questions.
>>Grab Jennifer's Bullet Journaling PLR pack
In case you forgot this front end pack includes:
a 34-page eBook "Bullet Journaling 101"
10-Custom Made Printables
10-Page Report "Staying Organized with Bullet Journaling"
Professionally Designed eCovers
14-Day Email Sequence
10 Articles 700+ Words
List of 60 Ideas For Bullet Journal Collection
Resources
As well as my Meal Planner Bonus
You'll get high-quality, pre-written content with both of these Bullet Journaling bundles – so if you need more content on this subject.  I suggest you grab them both.
Have a great and productive day!
~April