Jennifer Andersen has a Bullet Journaling PLR bundle that she created. Bullet journaling is really popular and people can use it for:
life goals and aspirations,
daily/weekly/monthly calendar,
finances,
shopping lists
a creative outlet,
healthy lifestyle changes,
tracking habits
and so much more.
>>Get the Bullet Journal PLR at Launch Prices!<<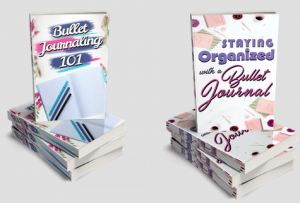 They can also improve your mental and emotional state. This helps with everything from mental stress to disorders like anxiety and depression. So you'll find that journaling can be used in a wide variety of niches.
Check out what you'll get:
eBook – 'Bullet Journaling 101' – 34 pages, 10,017 words
eCover Graphics – PNG (2 sizes) & PSD Files.
Printables – 10 Custom-Made Printables for Bullet Journaling
Report – 'Staying Organized With Bullet Journaling' – 10 pages, 4,443 words
Report eCover Graphics – PNG & PSD Files.
Emails – 14-day autoresponder series – 'Starting Your Bullet Journal'
Articles – 10 Articles – 700+ Words, Text & Word Format
Social Media Graphics & Posts
List of 60 Ideas for Bullet Journal Collections
Resources page
Jennifer's content is always top-notch and this is no exception.
April's Advice:
Here's what you can do:
Step 1: Take the report and set it up as an opt-in.
Step 2: In your report offer a 14 Day Bullet Journaling Challenge.
Step 3: For an upsell create a Facebook group and a weekly group coaching. You could also offer a coaching session to help people set up the perfect type of bullet journal for them. As a bonus include the List of 60 Ideas for Bullet Journal Collections and the bullet journal printables.
Step 4: Take the blog posts and set them up on your blog. At the bottom of each include an opt-in to get the report.
Step 5: Set up a marketing campaign to introduce your 14 Day Bullet Journaling Challenge with the social media graphics.
Make sure to make the content in your voice and with your brand colors.
>>Get the Bullet Journal PLR at Launch Prices!<<
I love journals and bullet journaling has become huge, so you can use this journal for tons of different slants in many different niches.
Plus I've added a bonus!  This is a meal planner journal pages template.
This is not a complete journal / planner but has enough pages for you to create something of your own. Add, copy and paste to make it something your audience will love!
Take a look at the template pages included:
Here's what I'd do:
Create a 12 week planner and use pages 1, 2 and 3 during that time (so you'll need to copy 12 of them). I'd probably only create 1 or 2 of the inventory pages and put those towards the back. I'd create 5 to 10 of the recipes and then 1 or 2 of the Favorite Recipes and Recipes to Try. All of these I'd include before the inventory pages.
To complete the journal make an eCover, then a disclaimer, as well as a page about you. If you want to take a little more time you could create a page that explains how to use the planner or why it will benefit them.
If you've already purchased the Bullet Journaling PLR pack – you'll find this in the Customer Portal under bonus.
Have a great and productive day!
~April