Today is all about nutrition.  This is a great topic if you talk about health at all on your blog or in your business because eating a balanced diet is so important to someone's health.  Getting all the rights nutrients is essential, but most people aren't sure what they need.  Teach your community about important vitamins, antioxidants and minerals with the PLR bundle.
>>Grab the Pre-Written Nutrition Content Bundle<<
Check out the Report Topics:
Why Is Complete Nutrition Important?
Why Not Just Take a Pill?
What Nutrients Do You Need?
Tips for Better Meal Planning
Foods High in B Vitamins
Tips to Consume More Foods That Are High in Minerals
Getting Minerals into Your Diet
Food High in Antioxidants
What about Protein and Fat?
Simple Signs That Your Diet Is Missing Something
You'll get a 21-Page report on the benefits of complete nutrition in your life, plus you'll also get a 10 day eCourse.
Email Day 1 – Three nutrient-dense foods to add to your diet
Email Day 2 – Avoiding supplementation – what about vitamin D?
Email Day 3 – Tips to add veggies to every meal
Email Day 4 – RDAs or DRIs – what's the difference?
Email Day 5 – Key to reducing inflammation in your diet
Email Day 6 – Do you have special nutritional needs?
Email Day 7 – What about probiotics?
Email Day 8 – Tips to get your calcium from natural sources
Email Day 9 – Simple steps you can take to improve your digestion and absorption
Email Day 10 – Top tips to embrace variety in your diet
The reason that this is such a great pack is that you can take the report, as well as the emails and use them exactly as they are meant to be a report and an eCourse.
Then you can take theProbiotics PLR bundles here and create a product from it.  Use the Report and eCourse from the Nutrition PLR to introduce and talk about Probiotics and how important they are to your diet.
A challenge from the Probiotics PLR bundle would be an idea.  You can create a challenge to help people get a healthy gut.
Plus you can use both the Nutrients and Probiotics PLR bundles to recommend products to your list.  You have the potential to work with specific brands or you could become a distributor for a direct sales company (MLM – like Plexus or any that offer probiotic products).  You could also become an affiliate at a site that sells supplements.
So there is definitely potential to make money.
Another reason I like the Nutrition PLR bundle is becuase it makes a great lead to so many different topics.  Take a look at 5 that I saw right away:
(All but one of these you can purchase with the coupon code: BDAYBASH)
Here's what I'd do:
Decide what you want topic you want to cover and the componets for each.  You'll have to start at the finished product so that when you set up the Nutrients report and eCourse you'll have everything ready (eCover mockups & links to product sales page).
What do you plan to offer?  A challenge?  An eBook?  A course on a platform like Teachable where it has both written content and videos?
Once you've decided get it all set up.
As soon as it is set up you'll want to create graphics.  I'd create an eCover graphic or some type of graphic for the course or challenge.
Get the Nutrients report and eCourse set up .  This means change the title and eCovers, then set up a sequence in the email software for the eCourse.
To advertise your paid course or challenge – add teasers throughout both the Report, as well as the eCourse and then link to the sales page.  At the end of your report put a clickable image to the product.
If you need help with a product funnel, Angela Wills has a Free Funnel Checklist.  This will help you create funnels in general for your business, but it would work great for this.
Have a great and productive day!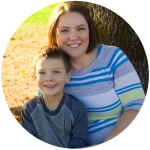 April