New Pre-Written Kitchen Organization Content Bundle
I'm not sure how, but my kitchen has become really unorganized. It has been a few months since I've gone through the cupboards, but I know that I need too. Every time I open a cupboard I cringe because there is so much stuff. Every time I think – How in the world did I accumulate so much stuff? It is easy to do.
I know I'm not the only one who finally realized that I NEED to organize my kitchen.
Kitchen Organization PLR – Coupon Code BDAYBASH
Check out what you'll get:
11-Page Report
eCover (including source files)
Royalty Free Images
Long Tail Keywords
5 Articles (report broken into articles)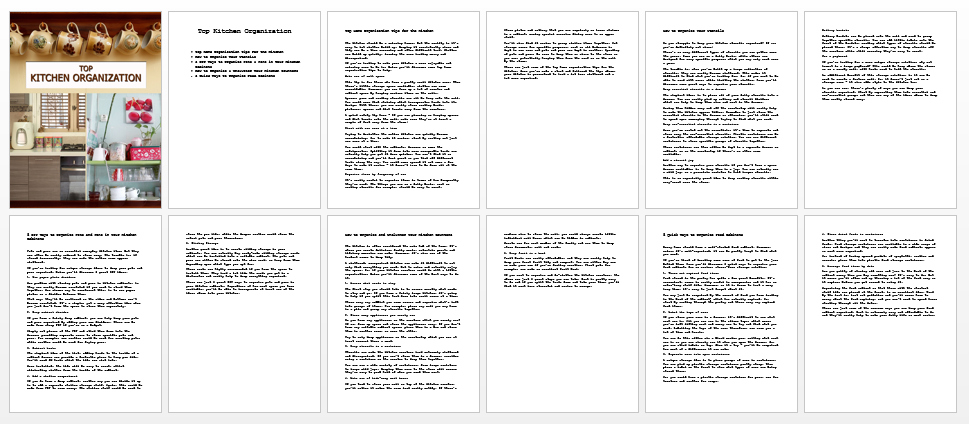 Here are the topics:
Top Home Organization Tips For the Kitchen
How to Organize Your Utensils
5 DIY Ways to Organize Pots & Pans in Your Kitchen Cabinets
How to Organize & Unclutter Your Kitchen Counters
5 Quick Ways To Organize Food Cabinets
There are a few different ways that you can use this. The first would be exactly as it was intended. Put the blog posts on your site and then under each one add an opt-in box with the report.
Kitchen Organization PLR – Coupon Code BDAYBASH
April's Advice:
Another way that you could use this is to create a 5-Day challenge. This PLR content could easily be created into this type of product. Follow the steps below:
Decide how you are going to deliver the content. Blog post, Facebook group, email, etc. I'm going to explain how to do it as an email challenge.
Go through the content and write your greeting and ending. Also while you're adding content, you'll want to briefly describe what will happen tomorrow in the last part of the paragraph. Starting on Day 2 – I would also add a little something about what you did the day before. You want to connect the challenge to make it flow easily.
Decide on a date to start your challenge.
Set up a Challenge Page (an opt-in or a salespage) for people to sign up to participate.
Start telling everyone about your challenge.
Ninja Tactics:
Create social media images for your Facebook group.
Record video based off the articles and then post them in your Facebook group.
Do the challenge with other people in the challenge. Take before and after photos. Engage in your group.
This is only one idea of how you can use this content.  Definitely not the only way.
If you have any questions, please let me know.
~April
P.S. Check out all the PLR Daily Deals happening in June!