Do you own a food blog? Are you having a hard time keeping up on all the recipes that you need to create?
I've got a great solution for you: Kitchen Bloggers
On this site, you'll find done-for-you recipes and food images.
Recipes are easy to use on blogs that talk about food because you can slant them any way you'd like – recipes for two, busy parents recipes, health recipes – pretty much anything.
>>Find the DFY Recipes here: Kitchen Bloggers <<
How To Create a Fun Recipe Series Challenge For Your Audience
Today I'm going to talk about creating a recipe challenge for busy parents out of this 4-Week Healthy 30 Minute Meals Menu Plans .
These are great recipes because they help parents in two ways – they are quick (30 minutes!) and they are healthy. For busy parents, both of these are perks because when you're always busy or tired after a long workday even 30 minutes can seem like a stretch.
So, these recipes would work well in a series that overcomes these obstacles.
Mom's just need a reminder that it doesn't have to take forever to provide healthy, nourishing meals and snacks for their family.
Please note that I'm only using busy parents as an example. You can use them to fit your audience.
Check it out:
30 Minute Meals For Over 50
Fast & Easy Meals For College Students
Quick Meals For Two
Think about your audience and what appeals to them and use that instead of the example that I've come up with.
>>Grab the 4-Week Healthy 30 Minute Meals Menu Plans & Get Started On Your Series Today!<<
I want to show you what you're going to get with this done-for-you bundle so that I can tell you what you can use to help you create the menu plans.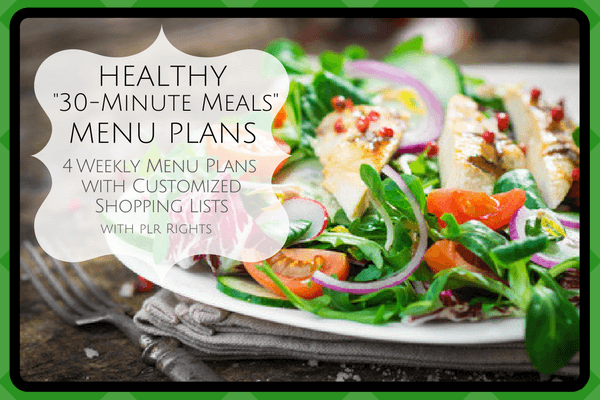 Here's what you'll get:

4 Weekly Menu Plans with 8 Recipes Each (32 Recipes Total – see the PS below for a complete list of recipes)
4 Customized (and Customizable) Shopping Lists (in PDF and editable Excel format)
1 Blank Shopping List (printable opt-in freebie)
4 Recipe Card Designs
3 Blank Recipe Cards
Pick The Series You'll Promote
You're going to want to know a few things before you begin.
How long do you want it to be?
How are you going to break the recipe cards up?
First, you're going to pick what type of series you'd like to promote. You can do this a few different ways:
Once a week for 32 weeks
Twice a week for 16 weeks
30 Days in a row
4 weeks now and then in another 3 months do another one
The next thing you're going to want to think about is how you'd like to break up the menu. I'm sure there is more but I can think of two ways that you can use them:
Break them up into types of meals – snacks, breakfast, lunch, dinner
Include all of them
Here's how you'd set it up…
The first email will be all about this awesome series you're going to start. This could be a regular email that you send to your list, it could be an email that you set up that they'll get after an opt-in they sign up for or it could be both.
If you want the series to be amazing you're going to want to talk about it often until it starts and even while you're hosting it.
In the email you'll want to include:
The start date
What they can expect
How it works
How Does This Work?
You're going to set it up as an email series or a blog series on your site.
Once your start date arrives send the first email or have it scheduled to go out. This should be a welcome email with the first recipe name and a grocery list for the week. In this email tell them what day to check your blog for the instructions on how to prepare the recipe.
By sending an email and also creating a blog post you'll be getting people back to your website.
Example of How a Series Might Look:
If you're doing a 30-day series you'd give them the weekly recipes and a grocery list. I'd give them a few days to get all their groceries before you start it. Sending all the information on Thursday so they have all weekend to buy groceries and start on Sunday or Monday would work really great.
Ninja Tip:
For the grocery list I'd check around online and see if there is a store that sells groceries that you can become an affiliate to AND that you can put your affiliate links in a PDF.
I like to use Wal-Mart groceries. Why? Because when I share my link and if someone uses it we both get a $10 credit.
You can also use Amazon to find some of the groceries – just make sure that you share those on your site and not through a PDF.
There might be different places to buy groceries that will give you a commission. Check online by using search words like: groceries affiliate program, Safeway affiliate program (my local grocery store), ALDI's affiliate program, etc.
Giving Enough Prep Time Is Essential
Remember to make this recipe series effective you'll need to make sure that you give them enough prep time. Give them a schedule of when they can expect the post to be online.
This could be as simple as a list of the dates each recipe will become available on the site or you could create a calendar with this information on it that they can print.
Step After The Recipe Is Available On Your Site
Then once the blog post with the recipe has been posted – go to your social media accounts. If you're participating – then add your pictures. If not use one of the recipe cards that are provided from Kitchen Blogger as a graphic and post the image with the recipe on it.
Get Engagement For a Fun & Interactive Recipe Series
To get engagement you're going to want to ask them questions.
Also use a specific hashtag for the challenge, so that everyone can use it on their Twitter and Instagram accounts.
Ask to see their meal, what extras they included with it (if anything) or if they made any adjustments to the recipes. This is very common. I know that I do this all the time. You could also ask them what they liked about the recipe or what they'd change next time.
Get them engaged and excited about your challenge.
>>Grab the 4-Week Healthy 30 Minute Meals Menu Plans<<

You can use this series to get opt-ins, to get your current audience excited or both.
Here are some more recipe bundles at Kitchen Blogger that you can use:
You'll find a lot of great content, recipes and beautiful food images to go with them at Kitchen Bloggers.
There are tons of ways that you can use this type of done-for-you content and I've only shared one. Do you see another way? Please share in the comments below.
Have a great and productive day!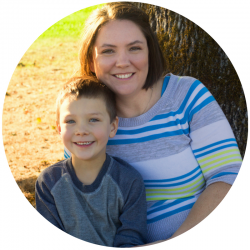 ~April & DMan
P.S. Trish Lindemood at Kitchen Bloggers has a Taste Test that includes 3 recipes. So make sure to grab these because they're free. 🙂
Want to share? Here's a PIN: