I've home-schooled DMan as soon as he could start school. I love the flexibility it brings to our life because we're able to travel when we want without making arrangements for him to have time off school.
What I really love about homeschooling is that he can focus on his passions like science and math. Plus he can learn from so many sources.
We're not the only ones who want to homeschool. Alice and her team have created an amazing PLR pack on homeschooling. This is one of the only content packs on this that I'm aware of. Plus you can get enough for an entire year!
If you've wanted to add homeschooling or kids activity books as part of your income stream – I'd check this bundle out.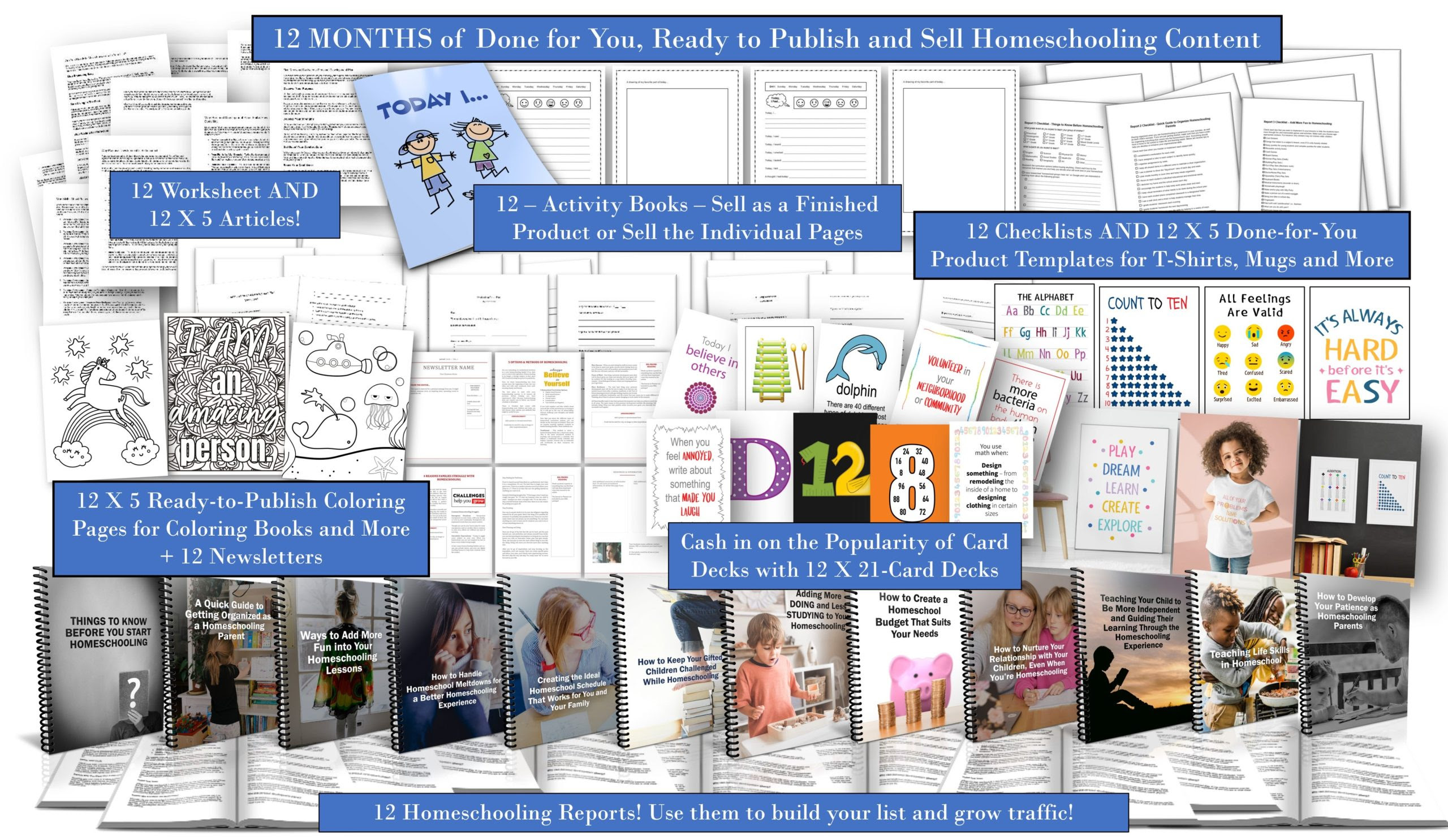 Here is what you'll get:
2 Homeschooling Reports – (.docx) (145 pages / 60,889 words) Each month comes with a report on a different topic to get you started and keep you organized with homeschooling. 1 report for each month.
12 x Professionally-Designed Ecover Sets – .JPG and .PSD with flat cover and 4 x 3D versions to go with each report.
60 Articles – for your social media, blog and more. 5 articles per month.
12 Printable Newsletters – fully editable newsletter in .docx format includes 2 of the articles in this EKit and includes plenty of space for your personal thoughts. 1 high quality printable newsletter for each month.
60 – 18″ x 24″ Posters/Product Templates – for wall art, mugs, t-shirts, social media, book covers, inserts…and more. 5 templates per month.
60 x 5 Coloring Pages – coloring is a hit with children and adults alike. Use these sheets to generate traffic or create downloadable or print coloring books for sale. (.png / PSD 2550 x 3300 px). 5 coloring pages per month.
12 Activity Books – (.docx) comes with an Ecover Set. There are three 4d versions. 1 workbook/Activity Book per month.
12 Printable Card Decks – Card Deck with fully editable cards. They come formatted for commercial or at-home printing. Instructions included. 1 card deck per month.
12 Educational Worksheets – (.docx) (32 pages / 2,571 words) to help your readers stay on track while learning and preparing for homeschooling. 1 worksheet per month to go with the report.
12 Educational Checklists – (.docx) (18 pages / 2,926 words) to help your readers create a plan, . 1 checklist per month to go with the report.
You can grab ALL 12 packs at one low price (instant download) or if you're on a budget, sign up to get them monthly. The choice is yours, but the amount of time and money you'll save with the 12 packs will make it easier to get growing your business more quickly.
==>Grab the Homeschooling Content PLR pack HERE
You can also grab a Free Pack here: http://ekithub.com/amember/aff/go/april2012?i=207
Have a great and productive day!